You want to do business in Taiwan but you are racing against time, work and language.
Let us be your bridge Speakers of English, Chinese & French; experienced business technologists and long-time residents of Taiwan, we could be just the ones you need to run your errands.
At WiDOB, we'll go the extra mile for you to meet your individual needs. We promise to be there when you need us and whereas the offices are closed and everyone goes home in the evening, we are open 24 hours a day Monday-Saturday, all year round. What's more, we speak your language; the language of international business is our mother tongue. And just in case you happen to speak French or Spanish, we are conversant in these languages too.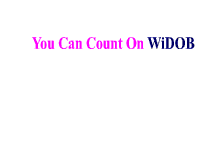 With WiDOB, there has never been a better way to do business in Taiwan. And just in case you are a Taiwanese entrepreneur wanting to reach the world with your goods, services, or just about anything but you don't have the time, or expertise, let's be your hand and mind.

Your reliable, indefatigable, native English-speaking one-stop source in Taiwan.

You name it. We source it!

We supply worldwide

We are open 24 hours a day.

We speak Chinese, English & French

We offer a personalized service all year round. @ WiDOB, you come first.

Believers in achievement and total customer satisfaction.